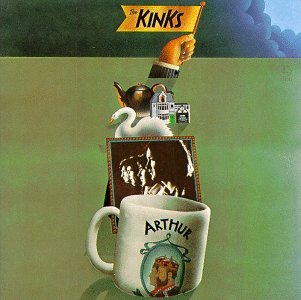 The Kinks -
"Young And Innocent Days"
Arthur (Or The Decline And Fall Of The British Empire)
(Reprise Records)
Of all the bands involved in the British Invasion of the 1960's, The Beatles and The Rolling Stones being the top of the class, The Kinks hadn't really made much of an impression on me like their contemporaries The Who had made. It took two veteran musicians performing on a July night in Pittsburgh, PA to give me a glimpse of The Kinks in different light.
It was at the Club Cafe where Dag Juhlin (The Slugs, Poi Dog Pondering) and Scott McCaughey (The Minus 5, The Young Fresh Fellows) shared the stage as openers for John Wesley Harding during his All Male Threesome tour. Juhlin and McCaughey gave the packed club a rendition of "Young And Innocent Days" by The Kinks. I stood in the back of the club thinking what a pretty song it was; a melody that never leaves your ears and lyrics that stick with you. Those very qualities have stayed with me for seven months now.
The passage of time becomes more and more apparent as the years go by and every now and then there is a moment of reflection, "Young And Innocent Days" is that moment. Maybe Ray Davies is writing about a time of his life that will never happen again, or realizing that change can't be stopped and life isn't really "sugar coated." In many ways it encapsulates the denial and acceptance that comes with growing up. Davies is handing the listener a mirror in order to look at themselves and not hide from the fact that they will never be young and innocent ever again in life--that day has past. Musically speaking, The Kinks convey this message magnificently with the usage of the harpsichord as this representative sound of the past, of royal ballroom dances, of a simpler time.
Ray Davies the storyteller; I'm beginning to understand why that title fits him so perfectly.